Introduction to the xTCA Family: ATCA - AMC - MicroTCA
High Performance Embedded Computer Series - Open Modular Multi-vendor STANDARDIZED Architectures
MicroTCA for Medium to High Performance and ATCA for Very High Performance - Redundant and Non-redundant
Large Global Ecosystem - Over 20 Vendors & ODMs - All Standardized Multi-vendor Products providing Full Mix-and-Match
Standardized + Modular + Multi-vendor = Lower Cost – e.g. The Upgrade to a New Processor is just a CPU Board swap, NOT the complete system
The ATCA (or AdvancedTCA) Architecture was announced in 2001 to replace the CompactPCI (cPCI) boards and systems used by the TEMs (Telecom Equipment Manufacturers) as there was an urgent need for higher computer performance and more and better connectivity.
PICMG to publish the specifications,

PICMG

is a nonprofit consortium of companies and organizations that collaboratively develop open standards for high performance telecommunications, military, industrial, and general purpose embedded computing applications.
ATCA was adopted all over the world by nearly all TELCOs (Telecom Service Providers / Carriers)
Very rapidly ATCA was selected in abundance for other applications in military/aero, hi-end industrial, research and more, in fact for sophisticated applications and redundant systems. But PICMG kept the name « Advanced Telecom Computing Architecture » which is confusing for newcomers.
AMC or AdvancedMC (Advanced Mezzanine Card): this standard defines a family of small, hot swappable, and fully managed mezzanine cards that can be used to tailor I/O for large AdvancedTCA systems or used as the basis for building MicroTCA systems. They are commonly called "AMCs"
MicroTCA (or µTCA): often called "AdvancedTCA's little brother", MicroTCA is a modular platform for building smaller and less expensive systems than ATCA while retaining the high availability architecture of AdvancedTCA. MicroTCA systems use AMC modules as their basic computing and I/O building blocks.
MicroTCA - µTCA
MicroTCA Systems
are based-on Single or Double AMC's
100% same as Mezzanines
used in ATCA
AdvancedTCA
ATCA Systems for Sophisticated and Critical
Applications here with 12 AMC Mezzanine Cards
AdvancedMC
AMC or AdvancedMC
or Advanced Mezzanine Card
are used as:
• Mezzanine Cards for ATCA
• System & IO Cards for µTCA
500+ Functions from 20+ Vendors
ATCA CPU Blade
and other available
with 1 or 2 AMC Slots
Double Width ATCA CPU Blades
available for Larger CPU Heatsink
ATCA Carrier Board
for 4 AMC's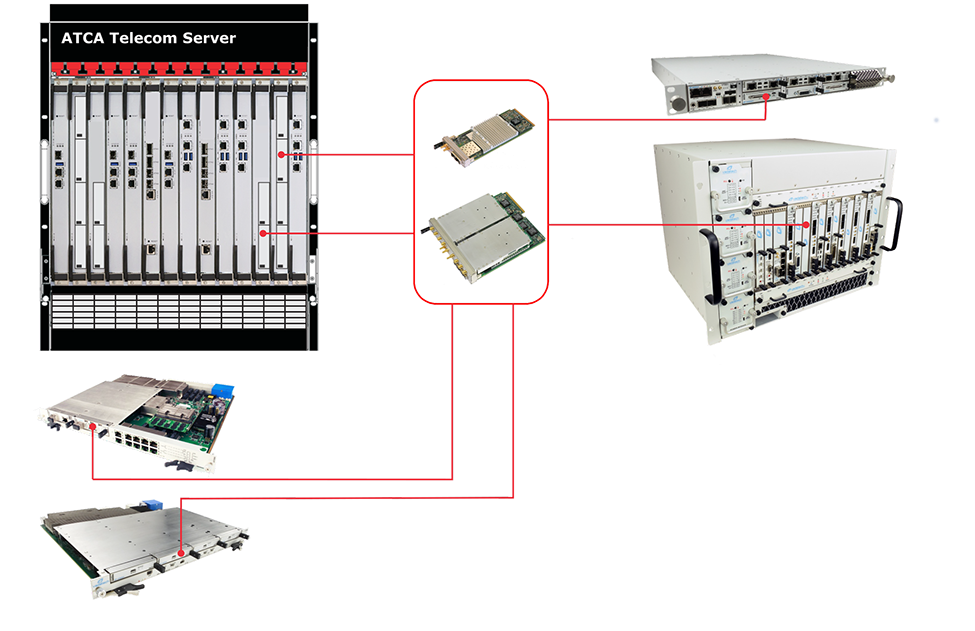 ATCA & MicroTCA
Connectivity can go Extreme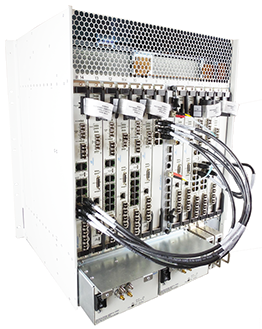 Here in picture
Rear Side of 14-slot ATCA Server
with 14 RTM's
(RTM = Rear Transition Module)
STANDARD Specifications from PICMG
Rear Transition Modules: RTM for ATCA & µRTM for MicroTCA
Increasing drastically the Connectivity and Options
Supports multiple switching fabric interfaces as defined in standards PICMG 3.1 (Ethernet and Fiber Channel) through PICMG 3.5 (Serial RapidIO)
NB: µRTM to be used with MicroTCA Chassis for Double AMC, but Single & Double can be mixed
HA - High Availablity a must for Communication Systems - See the Five Nines
​


Availability is usually expressed as a percentage of uptime in a given year